Westbay Farm is a three-acre farm, growing 20,000 pounds of organic vegetables each year. Its largest crops are lettuce, tomatoes, onions, potatoes, and squash.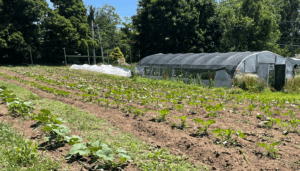 The farm provides fresh produce to the Westbay Marketplace food pantry, expanding the nutritious choices for our clients in Warwick, West Warwick, and East Greenwich. Farm produce is also available to the public at our summer Farm Stands.
Westbay Farm is located on the former Barton dairy farm. The City of Warwick owns the land and leases it to Westbay Community Action. Financial support is provided by a Community Services Block Grant and through the City of Warwick's Contributive Support program.
Summer Farm Stands to be held at the Farm on Thursdays from 3 – 6 pm, June 29 – Oct. 5, 2023. 
Get to know Westbay Farm! The Farm is operated by one Westbay farmer and a team of dedicated volunteers. Call us at 401-921-1249 to volunteer.